News
Check out the full range of RYA courses we offer at Wildwind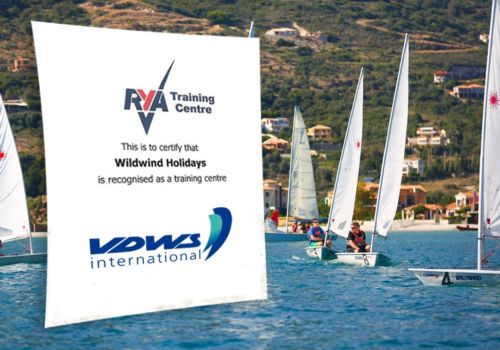 As you are no doubt aware, RYA recognition implies that we operate to significant standards of safety and instruction. Indeed, our centre undergoes a thorough inspection by the RYA every year. See our full certificate on the bottom of the page or download it here.
Simply tell us what you wish to learn
Although many of our guests are already accomplished sailors, many others are interested in taking one or more of the RYA courses that we offer at no extra charge. (a small charge is made for the certificate once the course is completed successfully)
If you are joining us on holiday and you would like to join in one of the courses, please do ask us at the very beginning of your stay; some courses (in particular the RYA Dinghy Level 2, which is widely accepted as implying a level of skill sufficient to rent a boat at most centres in Europe) take the best part of two weeks to complete.
Other courses (usually available only after you have acquired RYA Level 2) can be completed in a matter of days.
We are also recognised by the VDWS. International training association for water sports
The VDWS stands for a coordinated system of services for all aspects of water sports - especially wind sports. The focus of our activities is the training of water sports instructors, the support of water sports schools, the implementation of high quality standards in training, the maintenance and further development of the basic license system, the offer of both services and products and the representation of the interests of water sports instructors and water sports schools. Click here for more details.